Experiences and Use Cases
The PIDs and Data Management initiative at D2I focuses on defining emerging PID use cases and developing and testing solutions that would benefit specific research communities. The team collaborations with the working and interest groups at the Research Data Alliance and many collaborators around the world. The following use cases were tested with the PID framework.
Streaming Sensor Data 
The use case focused on air sensor data collected from devices that are installed mostly in Taiwan by the air quality microsensing project (https://pm25.lass-net.org/) - a collaboration between the Taiwanese academic institutions, computer industry and Taipei city government. The streaming data for our use case was collected in 2017.
To enable easy referencing and re-use from a repository, PIDs were assigned to daily sensor feeds of the data.
It is a RDA collection API. A collection API is a software to manage the collection and member objects in a specified data structure, and providing a flexible searching functionality for representing the data object. Metadata is captured and made available via the Data Type Registry - a component of PID framework developed in collaboration with RDA.
For more information about collection API:
https://github.com/RDACollectionsWG/specification
For more information, data and code visit:
https://github.com/Data-to-Insight-Center/SEADTrain
Rice Genomics Galaxy Workflows
PRAGMA-RDA Data Service Galaxy application brings persistent IDs and registration of data objects generated by scientific analysis, that is carried out using cloud virtual machines (VMs) in PRAGMA (http://www.pragma-grid.net/). The objective of the project is to improve sharing of data objects specifically from genomic analyses by the International Rice Research Institute (http://irri.org/) community. This service is designed to be reusable in other cases where VMs are used for analysis and PIDs are used to enhance sharing and reusability of results.
As part of our research at IU, we explored storing provenance as part of the PID Kernel Information record. PID Kernel Information is a small amount of information stored at resolver (Local Handle Server) in PID record of a PID. Below left provenance trace demonstrates provenance DAG (Directed Acyclic Graph) as published in the PID Kernel Information. DAG is a finite directed graph with no directed cycles. The below right provenance trace shows the full provenance trace of one Galaxy workflow execution. The PID backbone provenance trace emphasizes on the derivation history among published DOs to strengthen their trust and reusability.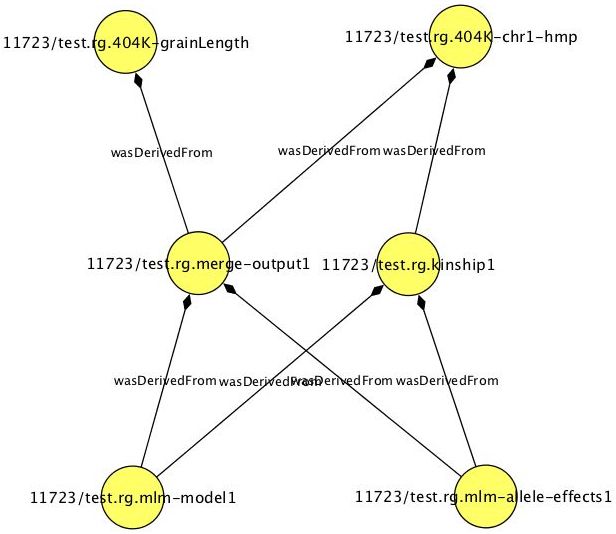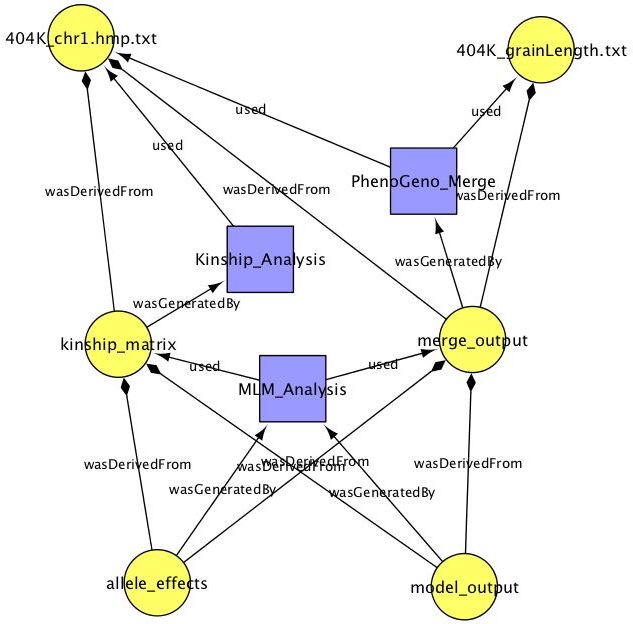 For more information, data and code visit:
GitHub code:
https://github.com/Data-to-Insight-Center/RDA-PRAGMA-Data-Service/tree/master
https://github.com/Data-to-Insight-Center/PRAGMA-Data-Repository
GitHub wiki:
https://github.com/Data-to-Insight-Center/RDA-PRAGMA-Data-Service/wiki/Welcome-to-PRAGMA-Data-Service-Prototype
https://github.com/Data-to-Insight-Center/RDA-PRAGMA-Data-Service/wiki/RDA-PRAGMA-Data-Identity-Service-API-Documents